Round the UK by Car or Train
Our guide to the rest of the UK



By popular request, for people wanting to visit London as part of a larger trip to the UK, this is a skeleton plan for you to build a your own tour of the UK. It's based on feedback we've received from visitors, as well as our own research trips. We concentrate on giving a broad picture of UK's landscapes, architecture and natural attractions. We've even divided it up into a west, central and northern loops for those on a tight schedule. There are other places to visit, but if you've done all these, you've sucked the juice out of the UK.





SHORT LIST: You could just pick one of these 5 locations, easily accessible by train or plane from London, hire a car and tour. However, we've joined them in a two-week post haste round the UK road trip combining town and country, with history ranging from 'prehistory' through Roman, medieval, Regency and Victorian and the best of the countryside from Lowland, Island and Highland Scotland to the Dales, Lakes and rolling Cotswolds. Where we indicate train and plane fares these imply flexibility of travel times and dates. If planning a trip then sort out travel before sorting out the London leg. Also be warned you will need to stick to a rail timetable with military precision as the cheapest tickets are not valid on other trains without HUGE supplements.

Edinburgh - one of few towns in the UK the active visitor could spend more than a day at, this 'crag and tail' of volcanic rock is full of history and the gateway to a lot of very pleasant Scottish countryside. Easily trainable (from £55 in advance or £110pp shorter notice, 4h20,) or flyable (£75pp upwards)from London.
Nearby: The undiscovered Galloway coastline and park - excellent lowland scenery. Fort William: beautiful lochs and castles in the mountains - highland scenery. (FW is also trainable from London 9-12h from £55 advance, from Edinburgh 4h20 £31.) Skye: rustic island villages with whisky. Hadrian's Wall - Roman defensive wall, a great walk across Britain

Cambridge: Of the two centres of learning, Cambridge is higher priority than Oxford as it has 'The Backs'. Easily accessible from London - see our trips page for more details.
Nearby: north Norfolk and the Broads, Suffolk maritime villages, Lincoln Cathedral.

Bath: Old yellow stones make this Regency playground a historic landmark. Can be done in a day. For those who like architecture, and are willing to master its hilly terrain, treasures await (for example Lansdowne Terrace, is worth the climb). 1h30m from London at c£50
Nearby: the Cotswolds - rolling downs and stone built villages, Corsham - beautiful stone village with Tudor Country House and other monuments. Stonehenge/Avebury stone circles. Gateway to Wales.

The Lakes and Dales: Two varied and beautiful national parks. The Lakes inspired a generation of British poets (cf Withnail and I) and the Dales symbolise pre-war rural Britain (cf: An American Werewolf in London)
Nearby: Chester, Liverpool, York, Durham: Cathedral towns with tons of history.

York Beautiful old town with history from Roman times to the industrial revolution. Great cathedral and narrow Tudor streets.
Nearby: the Dales, Durham, Lincoln


---

Distances:
apart from the Scottish legs, most journeys take a maximum 2 hours driving, usually less.


London to Oxford 55 miles, 1h20 min
Oxford to Stonehenge 60 Miles 1h20min
Stonehenge to Bath 37 miles, 1h
Bath to Broadway (Cotswolds) 72 Miles 1 hr30
Broadway (The Cotswolds) to Ludlow 52 miles 1h30
Ludlow (Shropshire Marches) to Chester 70 miles 1h40
Chester to Liverpool Lakes 90 miles, 2h
The Lake District to Dalbeattie, 90 miles, 2h
Dalbeattie to Fort William 190 miles, 3+ hours (but it's a nice drive)
Fort William to Skye 115 miles, 2 hours
Fort William to Edinburgh 130 miles, 3 hours
Edinburgh to Bamburgh 77 1h45m
Bamburgh to Durham 70 miles 1h20
Durham to Grassington (Dales) 65 miles 1h20
Grassington (Dales) to York 44 miles 1h20
York to Lincoln 80 miles 1h40
Lincoln to Blakeney (North Norfolk) 95 miles 2h20
Blakeney to Aldeburgh 80 miles 2 h
Aldeburgh to Cambridge 77miles 1h 45
Cambridge to London 61 miles 1h20

and the loops:
Chester to Warwick 110miles 2h10m
Warwick to Cambridge 90 miles 1h45
Ambleside (Lakes) to Grassington (Dales) 60 miles 1h30

Click on a town or place above to learn more.


---
Places in detail:
We're going clockwise:

From London you're heading west into Oxfordshire to visit one of out alma maters, the University of Oxford. there is little of note in the town that is not part of or connected to the university. Like Cambridge and Durham, Oxford is a collegiate institution with 30 or so colleges making up the university like United States, and, rather as in the US, some constituents are more equal than others. Christchurch and Merton colleges represent the Californias in terms of money (though they're more preppy easy coast in terms of character) and St Peter's is a Dakota.


Merton is the oldest college (there were itinerant teachers in Oxford before Merton's foundation and Balliol college claims its inception to these, but Merton was the first founded as a college. ) It's old, small and rich and very academic. When we were there the kitchens had been left money by an alumni and the college served up feasts at every meal. Venison, chips and beans being one lunch we remember. Now the food is more average but the gardens and buildings still as lovely.

Next door is Christchurch, a rather snobbish institution where going to the right school will get you places that being clever won't. It charges a corresponding £6 entry fee. It's Sebastian Flyte's college in Evelyn Waugh's "Brideshead Revisited". The huge quad (unfinished as the founder was beheaded by Henry VIII before he could complete the building works) dominates.
Magdalene is the other big visit, and knows it, charging £4.50 admission: Its deer park, cloisters, chapel, and grounds make it one of the top attractions.
Other Colleges of note: St Johns (nice garden, academic), All Souls (perhaps the most beautiful war memorial ever), Brasenose (front quad), Lincoln (front quad), Queens', Hertford (front quad, bridge) and New (nice buildings, cloisters, free admission) should suffice. Coupled with a walk along both the High and Broad Streets and the Turl you've done it. Save the punting for Cambridge.

The prehistoric ruins of Stonehenge, Avebury and Uffingham's White Horse are dealt with on our daytrip page.

From Stonehenge to bath is an easy run and it's worth a quick detour to Corsham, a charming little village with a nice Tudor stately home with grounds by Capability Brown, and some quaint alms houses to visit.


Bath is a temple to Regency architecture, and if you've read Jane Austin you'll already know a lot of the history. Most people visit the Royal Crescent, but there are plenty of others, our favourite being Lansdowne Crescent, further up the hill (Bath is very hilly). If staying overnight try for our recommendation, Apsley house hotel (available at a good discount via one of the booking links on our hotels page). Bath has natural hot springs and you can visit the Roman Baths (costly admission) and the modern thermal spa. The town has good antiques markets and is pleasant to walk around, but you can easily do it in a day, and if you are a keen walker, in an afternoon. However it is very busy in peak season as it is on most of the coach party routes...








From Bath you can explore the Cotswolds, where lots of Britons dream of living in a rural idyll, troubled only by coach parties of Japanese and American tourists, squeezing down the narrow roads. The Slaughters, Broadway, Stow-on-the-Wold and Bourton-on-the-water are the chief draws, justifiably. However you'll see similar villages in the Dales and Lakes, albeit not build from the beautiful yellow Cotswold stone. Historic towns like Gloucester, Tewksbury ( nice Abbey) and Cirencester (another nice Abbey demolished by Henry VIII) can be also worth a brief visit before you take a slow road to Hereford.

Hereford has a nice cathedral and adjoining school and little else...the cathedral maintains the tradition of Boy Bishops - electing a 12 year old to serve as Bishop for christmastide, to humble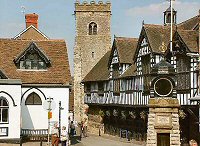 older incumbents.
We're heading for the Road that joins Abergavenny to Ludlow. Abergavenny is a very foodie area and Ludlow has been described as a collection of Michelin star restaurants attached to a castle and racecourse. This road along the Marches will eventually lead to Chester, via the Wenlocks and Shrewsbury goes through much unspoilt rural England and is little visited, passing a succession of castles en route. This landscape inspired the poety of Housman and some of the music of Vaughan Williams. You can walk Wenlock Edge or visit (briefly) the village of Much Wenlock - believe it or not, the idea for the Olympic games came from here and the village still hosts its 'Olympian Games' every July.


Chester is an old Roman/Medieval city (the word derives from Castra, Roman for camp) with intact city walls (walk round them, two miles) lots of black-and-white buildings (eg Gods Providence House, Watergate St) a racecourse (which attracts top punters including Windsors and Grosvenors), a decent riverfront and its USP: the Rows.
Hemmed in by walls to protect from marauding Welsh (they come in by bus, now, to shop on Thursday afternoons) but a thriving commercial centre the only way was up. So they build a second layer of shops above the first, with a covered walkway, so the town exists on two levels. The city has seen a lot of shops move out to the nearby outlet village (at Ellesmere Port) due to high rents, but is still quite a pleasant place. Kids can become Roman soldiers for the day, adults trying this should be shot. Chester also has the biggest Zoo in the UK, pioneering 'no bars' enclosures and is rated one of the best zoos in the world by Forbes. Chester also has the best claim to being King Arthur's Camelot - the round table would have been a mobile parliament, in the amphitheatre.



At this point you could cut across to Warwick (castle, nice old town) and Stratford (crowded and unless you're a Shakespeare fan don't go, if you are, then try to see a play at the RSC if possible). However the grand tour of the UK presses north for a short visit to Liverpool, home of the Beatles, transatlantic slavery and two very contrasting cathedrals. If staying here stay at the Hope Street hotel and eat at our favourite, Fraiche just across the river near Birkenhead which has a superb chef, a Michelin star and very decent prices. The Matthew St Festival at the end of August is well worth the visit. Where else can you see 200 beatles tribute bands, including some (eg japanese) who can't speak English but can sing with Liverpudlian accents? Also top tribute bands from round the world on 5 stages continuously, across the city. It's much, much more fun than it sounds, our editor avows.

In Liverpool visit the docks, the two cathedrals, Anglican (huge) and Catholic copy of Rio's, Matthew Street, eat lunch on Bold Street and get drunk on Rope Street. Next port of call is the Lake District and it's time to get out your walking boots.


The lakes vie with the Scottish Highlands for the most beautiful parts of mainland UK. They are forever associated with the Romantic poets Wordsworth, Coleridge and Southey. You can drive through the lake district but we really recommend you take a day out to walk.

Try this route, for instance, or one of the many others you can easily find online. There are plenty of small pubs and eateries or take a packed lunch. Make sure you get up high as the views are fantastic. Ambleside is the main tourist hub. We'd recommend you see Grassmere, Coniston and Hawkshead if you can. Ideally a couple of days spent here (weather permitting - if it rains hope for better weather in Scotland) will pay off, after all that driving. Hint: the Lakes gets 8 m illion visitors a year, but it quite easy to find yourself alone surveying a beautiful panorama - so a little research (for example The LAKES WEBSITE) is the best remedy. maps, pictures, advice, itinerarries, it has the lot. If you've run out of time you can take our short-circuit loop across to the Yorkshire dales from here.


Leaving the Lakes we press on north towards lowland Scotland and the neglected Galloway peninsula. Penrith to Rockcliffe is only 90 minutes by car. You'll probably pass near Gretna Green which was the number one elopement destination for young couples who were too young or needed parental permission. The coastline near Dalbeattie and Kirkudbright (pronounced Kirk oo bree) is spectacular. Avoid towns and stay in the smallest village you can find. Rockcliffe is a good place to start looking. The spectacular esturies round here were favourite sites for Catholics to kill reformers, by tying them to stakes in the sand and watching (while presumably eating popcorn) as the tide drowned them.


From the Galloway peninsula head north towards Fort William - a very scenic drive. Take the A78, A82, A83, A819 to Oban (you can visit the Scotch distillery there for a refresher..) and then follow the coast road to Fort William.
If you want to take the spur off to Skye you can take the ferry at Mallaig on the way back take the A 87 to pass the beautiful Eilean Donan castle. If not then you'll need to rest at Fort William. If you have money to burn stay at Inverlochy Castle Hotel, otherwise use a hotel search engine to find a decent local place - there are several B and Bs along the loch. Caution: the west of Scotland is swarming with midges in summer so pack a repellent.


To get to our next stop, Edinburgh, cross Scotland to Pitlochry and Perth and drop down over the A90 road bridge to Edinburgh, admiring the Forth Railway bridge made famous in Hitchcock's 39 steps. Edinburgh is the capital of Scotland and is really the only city worth spending time in. Visit the Royal Mile, Holyrood House, Climb Arthur's Seat and if you're there in August grab some culture at the festival. Edinburgh, though hilly, is best explored on foot. Try this guide.



From Edinburgh follow the coast round to Lindisfarne and Bamburgh Castle. Lindisfarne is the monastery founded in 635AD by Saint Aidan. Bamburgh Castle sits at the end of a windswept bay, like Edinburgh on an outcrop of hard volcanic rock.





There are a number of quaint villages along the coast down to Berwick, such as Warkworth, none worth tarrying in for too long. However Alnwick castle (film location: Harry Potter) is a decent castle on the A1.

Further down the road, just south of Newcastle, near Gateshead look out for the 'Angel of the North' (Intersection of the A1 and A167 ) the iconic sculpture by Gormley. It stands 20 metres high and is roughly the size of a jumbo jet. At first hated it is now seen as the symbol of Britain's north East, a desolate and rundown post-industrial area.









The next port of call is Durham, with its collegiate university and excellent Norman cathedral, dating from 1093, which is often used as a film set (Harry Potter, Elizabeth).

From Durham we head inland to the Yorkshire Dales National Park. from there we head to another major destination, the Roman city of York, with a long history. Constantine (300 AD) was a Roman commander at York in the army of his father Constantius' when he was acclaimed Emperor. Although a Roman city its name comes from the Viking Jorvik (a viking corruption of a Germanic corruption of a corruption of the Roman Eboracum) - most native Yorkshiremen have viking blood. it's also famous for the medieval House of York royal line and cricket. See the minster, the shambles and the castle. Most other attractions are very artificial and touristy. if you have time visit the stately home of Castle Howard, fifteen miles northeast of York. It's better known as Brideshead in Evelyn Waugh's novel 'Brideshead Revisited'.

From York we continue south to Lincoln, another fine cathedral - when built it was the tallest building in the world. In the 13th and 14th centuries Lincoln was the UK's third city and wealthy due to being at the centre of the wool trade. See the Cathedral, castle and Bishops house and explore the historic centre. The museum has a good reputation for a county collection with art by Turner and Lowry. SHORT CIRCUIT: As Lincoln is just a smaller version of York and is only included here as a journey break (or for Cathedral enthusiasts) You can easily get from York straight to Warwick (2h30) via the M1 and M69 motorways (Nottingham is en route but is not really worth much of a detour - it's a boring part of the country) and from there to Cambridge and thence back to London (perhaps stopping off to see Audley End en route) to short circuit this part of Britain. If you've done the rest of the tour then there's nothing in Lincoln, Norfolk or Suffolk which will add significantly to your trip - they're just nice places to visit.


Leaving Lincoln we go round the Wash to North Norfolk - a fashionable second-home location for foodie Londoners - there's a wealth of good restaurants. If you want to overnight here stay in Blakeney, the White Horse is recommended. The area of North Norfolk is dealt with on our trips page. The walk from Cley to Blakeney is delightful. You can also press on to fashionable Aldeburgh on the Suffolk coast - a fishing village with a huge intellectual reputation. Former home of Benjamin Britten it stages musical events all year round at the purpose built concert hall Snape Maltings. You can visit the graves of Britten and his lover Peter Pears, as well as conductor Imogen Holst in the village graveyard. From here you can head back to London via Cambridge (see trips page for details)











---
Round the UK by train
Our recommended route.
A la carte.

The first consideration is fares. These vary wildly (see our transport page) and flexibility is the key. That said the cost can be prohibitive unless you plan like a military campaign and stick to it. Avoid commuter and peak travel times. Do not use the national rail cheapest fare finder, it lies. See transport page for ways to get price down and always book in advance!


---
Our £60 train tour
All fares are advance, one-way and non-refundable, per person - remember to add on overnight costs (check hotel rates through our hotel booking engines). We found these by booking at least two months ahead and all are at sensible times and on proper routes and trains.

London to Chester (£11).
Chester to Liverpool (£8 rtn) optional leg for all but Beatles fans
Chester to Oxenholme/Windemere (£7)
Oxenholme to Edinburgh (£7)
Edinburgh to York (£16.50)
York to London (£14.50).

Recommended minimum time spends: Chester 4h, Liverpool 4h, The lakes (good weather 2-3 days), Edinburgh 1 day, York 1 day. You get two Roman cities, one old city, one stunning castle, lots of amazing countryside, up to three cathedrals, some strange accents.

Check list: Eat Cheshire cheese in Chester (with a slice of fruitcake, Lancashire style), a Yorkshire pudding in York, A Cumberland sausage in the Lakes, haggis and chips ("wi sal n soss") in Edinburgh and gourmet food in Liverpool (for the incongruity of it). Wander lonely as a cloud in the lakes (take walking shoes, Edinburgh is hilly too). or anything tartan - you'll look an idiot when you get home.
Yes, we're fully aware that using blinking text is a web design no-no, but we are thinking of your sanity here.


---
A la carte
London to Bath - You can do this as a day trip, or via Oxford (in which case budget for a hotel in Bath around £80pppn) the journey takes 1h30 and costs from £21 return advance, or £50pp not-so-advance.

Bath to the north west (or anywhere else for that matter) is a long journey involving changes, so do Bath as a day trip or stop off at Oxford en route (London - Oxford 50 mins £4pp advance, £22 not-so-advance, Oxford - Bath 1h20, from £7.50 advance, £14 not so advance.).


---

London to Chester or Liverpool about 2h and £25pp. Easy. Chester to the Lakes is a good idea, £14 return in advance (£7 single to Windemere), journey is about 2h30.


---

London to the Lakes. You will need to get to Windemere, Ambleside or one of the larger villages. It is quick, and cheap if booked in advance.

There are two main routes: (Oxenholme, near Kendal) 2h30 cheapest 'normal' fare about £35pp - . This is one of the routes where first class may save you money, and fishing around for fares pays off. From Oxenholme you'll need to get to Kendal and thence to Ambleside, Windemere or Grassmere on a bus from Kendal to Grassmere takes about one hour. the advantage of this is you get a bus ride through the lakes.

Alternatively you can go direct to Windemere for about the same price and 45 mins extra, but these trains can get pretty crowded and the cheap fares vanish rapidly.


---

London to Edinburgh - £55 advance, 4h30m. You can go by plane for £75, but add on transport costs to airports. Train from Edinburgh to Fort William is £31 and another 4h30, however to enjoy Fort William you'd need a car. FW is also trainable from London 9-12h from £55 advance.


---

London to Galloway is not really practicable and to explore the region you'd need a car.


---

London to York is an easy 2 hour train ride. £25 advance return. To do the Dales you'd need a car.


---